Living Our Faith
Our Catholic faith is at the very heart of our school and is evident as soon as you step through our doors in what you will see, hear and feel inside St. Chad's. Our Faith permeates every aspect of school life and we are proud to be a Catholic School within The Archdiocese of Birmingham.
Treating with care and respect is of the highest importance to everyone in our community. Everyone is made to feel special and helped to realise their God-given talents. Every member of our school community, Catholic and non-Catholic alike, is welcomed and valued. Everyone is treated with love and everyone is treated equally.
Our entire curriculum and school culture is based on the teachings of Christ through the Catholic Schools Pupil Profile and children are taught to become kind, respectful, forgiving and caring young people. Treating all people equally is a very important value of the school, its culture and curriculum. Great care is taken to make links between the teachings of Jesus and how we behave and treat others.
Our close link with our Parishes is very important to us and our school chaplain is the Parish Priest, Father Paul Edwards. All of our assemblies and prayer services throughout the week are rooted in the teachings of Jesus.
We have daily acts of collective worship, assemblies, hymn practices and prayer services. Children have regular opportunities to organise and lead their own acts of collective worship. Our children also pray regularly throughout the day in their classrooms. Parents are normally invited to join us throughout the year for special focused assemblies led by different classes. Parents and the Parish community are also normally encouraged to join us for our weekly Mass every Tuesday, which is at the heart of our worshipping community life.
| | | |
| --- | --- | --- |
| A display depitcting all the Priests who have served St. Chad's over the years. | | A display celebrating the 225th Anniversary of the Mission in Sedgley. |
Weekly Mass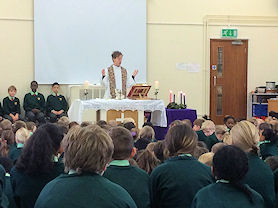 Father Paul saying Mass for us in school during the winter months.
The whole school normally joins in the joyous celebration of the Eucharist in Mass every Tuesday morning at 9.15am either in St. Chad's Church or in the school hall (depending on the time of year) along with members of our parish community and our parents and family members.
Children read, sing and pray together and make our Masses beautiful and uplifting celebrations of the Eucharist.
Thanks be to God!
Charities
We support lots of charities throughout the year and staff, children and their families are always extremely generous in their support of others. Money is raised through fund raising events: raffles, sales, sponsored events, and community collections.
We have supported charities such as Cafod; Macmillan Cancer, Father Hudson's Society, Samaritan's purse, and appeals in Rwanda and Tanzania. We have also collected tins of food for The Good Shepherd Shelter in Wolverhampton. When the children raise money through activities like sponsored events, they take some responsibility for helping to decide which charities are supported by their fundraising.