Curriculum
The curriculum at St Chad's Catholic Primary School is committed to meeting the requirements of the National Curriculum and our aims reflect the values of the Catholic School Pupil Profile.
The Intent of our Curriculum
The school is developing a St Chad's curriculum that goes beyond the requirements of the national curriculum to give all groups of pupils the knowledge they need to succeed both in life and at the next stage of their education.
The curriculum is sequenced and connected to what has been learnt before and what will be learnt in the future. Progression in skills is mapped for each subject so that learning and progress builds up incrementally.
Our intention is to provide opportunities for our children to develop into independent, confident, successful learners with high aspiration, exhibiting the values of the Catholic School Pupil Profile by the time the children complete their Key Stage 2 learning.
We want our pupils to develop academic, moral and spiritual skills so they can make a positive contribution to their school, parish community and the wider society by becoming global citizens ready to take their next steps into society. We seek to raise aspirations, engender a sense of personal pride in achievement, provide a purpose and relevance for learning and ultimately help every pupil to find their strengths and interests. Pupils at all stages of their learning are helped to achieve their potential, recognise their strengths and identify what they need to do to improve. Children are challenged in their learning and encouraged to expand their skills and knowledge through varied curriculum opportunities.
As well as nurturing the values of the Catholic School Pupil Profile, our curriculum also meets and exceeds the subject content demands of the National Curriculum for England.
The curriculum is designed to ensure coverage and progression and to provide pupils with memorable experiences, in addition to diverse and rich opportunities from which children can learn and develop a range of transferable skills. We strive to promote a love of learning and enjoyment of the curriculum so children are inspired, have a sense of pride and develop confidence and resilience. Stimulating visits and visitors are also part of enhancing the curriculum.
Also see our Foundation Stage page for curriculum information for our Nursery and Reception children.
The Implementation of our Curriculum
The implementation of the curriculum is through a specific focus on becoming a St Chad's citizen. The implementation of the St Chad's citizen drivers and teaching subject knowledge so pupils know more and remember more supports the pupils in working towards good learning outcomes.
Learning Overviews with a 'golden thread' supports the pupils in making links between subject knowledge and skills, Over the course of the school year learning overviews will be taught in each year group, each one focussing on a specific subject area. The curriculum is mapped out to ensure progression in learning and is followed by children from Years 1 to Year 6.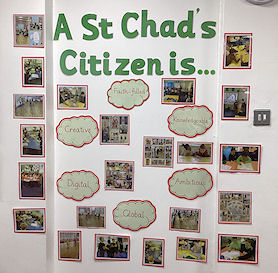 Each Learning Overview will demonstrate Curriculum Drivers which will support the children in becoming a St Chad's Citizen. The Drivers are:
Ambitious promotes activities that challenge the children.
Faith-Filled demonstrates how the learning tasks promotes a faith-filled response.
Creative focuses on how the children can show their creativity.
Digital demonstrates how children can use their IT skills to enhance their learning.
Global focuses on how children can become global citizens to help change the world around them.
Knowledgeable seeks to show how knowledge and facts improve children's learning.
To further support the planning of the Learning Overviews there are detailed plans for every subject. Each subject is split into curriculum units for each year group. Units of work are carefully sequenced to ensure they build upon each other to reinforce and extend previous learning. The curriculum for each subject is carefully cross referenced to what has been learnt before and what will be learnt in the future.
The curriculum is also matched to the Catholic Schools Pupil Profile and we make explicit links between the spiritual and academic values and the lesson content.
Within each curriculum unit of work, the lesson content is broken into component chunks that build together towards a composite piece of learning within the subject. We use a wide range of resources to help us to deliver our curriculum, including published schemes of work where these matches our own curriculum plan.
Monitoring the Impact of our Curriculum
School leaders and subject leaders monitor the quality of the provision in every subject throughout the year using a range of monitoring tools.
Subject monitoring includes lesson observations, book scrutiny and pupil interviews. Emphasis is placed on listening to the views of children so that we can ensure they are engaged and motivated by our curriculum. We are constantly adapting our curriculum to meet the needs of pupils.
Attainment and progress data is collected every term and is carefully analysed to identify any gaps in learning that need reteaching. Data is also carefully analysed to look for trends and address weaknesses where these exist.
School leaders and subject leaders prepare action plans every year to develop and improve the provision for each subject. These action plans are reviewed regularly.
Our Teaching and Learning Policy: 'How We Learn'
We have a simple and consistent approach to teaching and learning throughout the school from Early Years through to Year 6.
As a result of being rooted in the Catholic School Pupil Profile, our teaching and learning approach is a seamless component of the curriculum itself. Children are first taught to use a range of learning skills that are linked to the Catholic School Pupil Profile under the broad disciplines of Remembering, Analysing, Creating, Applying, Evaluating and Understanding. As the children become more experienced they start to choose for themselves the learning skills they will need in different lessons and contexts.
Our approach to teaching and learning is rooted in both Blooms Taxonomy and The Catholic School Pupil Profile.
Curriculum Documents
Skills Progression
End of Year Expectations
Reception
Year 1
Year 2
Year 3
Year 4
Year 5
Year 6