Physical Wellbeing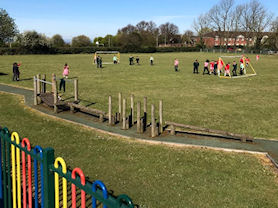 We place a high emphasis on physical wellbeing, with numerous opportunities for all children to be active throughout each day.
There is a range of equipment available to use at play times and lunch times.
We offer a number of extra-curricular sports clubs, with something available to every year group. This is an important part of both physical and mental wellbeing.
We are fortunate to have a lovely sports field which is well used during April to October for a wide range of sporting activities.
Finally, PE lessons enable children to become more physically literate and enjoy various aspects of PE. Each week children take part in lessons which focus on improving fitness alongside lessons which cover the PE curriculum.
Outside Dining
During the warmer weather children are given the opportunity to eat their lunch outside. This is something the children like very much, as they can enjoy the fresh air and sunshine!