Pupil Leaders
School Council
Our School Council consists of two representatives from Years 1 to 6. We meet at least every half term to discuss issues that affect us in school and share ideas about things we want to change or improve in our school.
We get involved in most decisions made in school. It is our school and we take responsibility for making sure that every child is heard. We even get involved in appointing new staff!
Here is a photo of last years school council (will be updated when Covid safety precautions permit)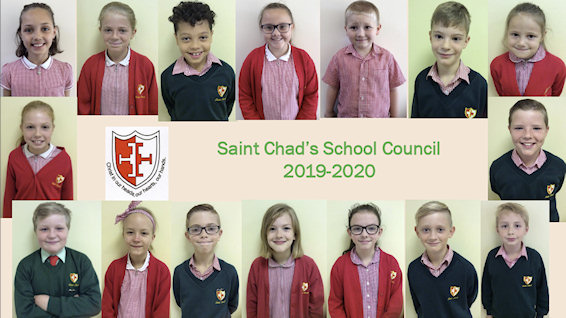 Kindness Crew (peer mediators)
Kindness Crew are children from Key Stage 2 who assist other children on the playground, to help sort out minor disagreements between children and to look after those who are upset or just need someone to talk to.
Our Kindness crew have to apply for the position, complete an application form, which is signed by both them and their parents and take part in an interview. If successful the children take part in training before they begin their new jobs!
House Captains
All of the members of our school are divided into houses which take their names from qualities the School Council felt were important for our school to recognise - Truth, Forgiveness, Respect and Equality.
In Year 6 House Captains are chosen to lead each house.
The House Captains collect the house points from each class weekly and these are reported in our Friday Assembly. At the end of every term the house with the most House Points wins the trophy!
Mission Team
At St. Chad's we have two members of the Mission Team in each class.
The Mission Team are divided into two groups - Catholic Life Evaluators and Collective Worship Evaluators.
The children work together and with the teachers to evaluate Catholic Life and Collective Worship to make sure that at St Chad's it is the best that it can be!