Snippets Archive
From September 2018, we will be adding all our 'snippet' reports into our new Snippets of News Blog. Below, you can look back on our previous snippets from school year 2017/18 and and earlier.
Reception Learn About Road Safety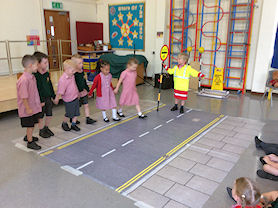 Learning how to cross the road safely.
13 June 2018
Reception children enjoyed a visit from Debbie, the Road Safety Officer.
She taught us all about keeping ourselves safe when out and about. We practised crossing the road using different kinds of lights and pedestrian crossings.
The children listened and participated very well and were able to re-enact the safe crossing rules in their play later in the week.
Reception Meet the Police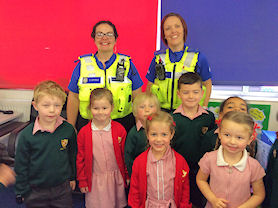 Meeting PCs Jo and Emma.
5 June 2018
Reception class had a visit from PCs Jo and Emma. They told us all about keeping ourselves safe from strangers.
They showed us their special uniform and equipment. They told us all about how they do their job in Sedgley and Gornal.
Some of us have decided we would like to join the police when we are grown up. We would like to help people and keep them safe.
Dodge Ball Semi-Finalists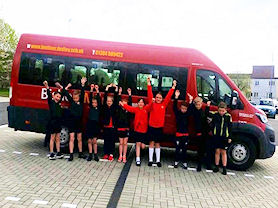 On our way to the dodge ball competition.
23 April 2018
On Monday the 23rd April ten children from Years 3 and 4 travelled to Wednesbury Leisure Centre to represent our school in a dodge ball competition.
Both teams did exceptionally well and made it through to the semi-finals.
Year 3 progressed into the final and came second. The children we awarded with a trophy and runner up medals.
People at the event commented on how enthusiastic and well behaved our children were. We are very proud of our competitors- well done!
Diana Award Anti-Bullying Campaign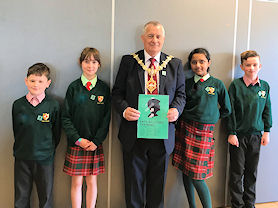 Our Year 5 Anti-Bullying Ambassadors.
18 April 2018
On 18 April four children chosen from Year 5 attended special training to become Anti- Bullying Ambassadors for St. Chad's.
The children, accompanied by Mrs Thomas, spent the day at the David Lloyd gym with children from other Dudley primary schools.
They learnt about what bullying is and how it can affect people. They were taught strategies to help them support others and to stay safe.
They will be attending a second day in June.
Gymnastics Competition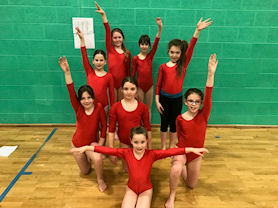 Our great gymnasts.
29 March 2018
On the 29th March a number of children from Years 4, 5 and 6 competed in the Dudley Schools Gymnastics Competition.
The girls were a real credit to the school and did extremely well. Both teams finished within the top 20. The Year 5/6 team got a score of 67.6 and the year 4 team got a score of 65.1!
Well done to all the children who competed.
Mother's Day Assembly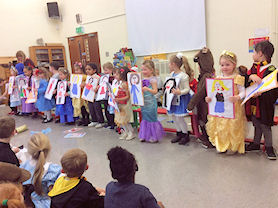 Our special assembly for our special mums!
9 March 2018
We celebrated Mother's Day by inviting our families to a special assembly on 9th March.
We painted pictures of our mums. We learned a song and some of us played instruments. We learned a poem with actions. Lots of us learned words and acted things out. We said a prayer and thanked God for our lovely moms.
We were amazing!
New PE Equipment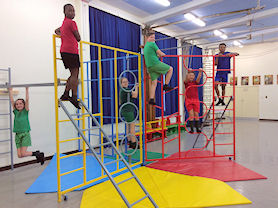 Year 6 trying out the new equipment.
26 February 2018
Over half term we have had some new PE equipment fitted and new benches delivered.
Year 6 have already have already enjoyed their first Gymnastics lesson using the new equipment.
First Holy Communion Commitment Mass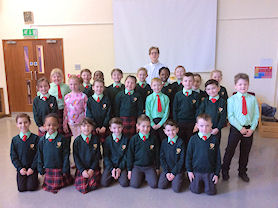 Our First Holy Communion candidates.
15 February 2018
During the school Mass on Thursday 15 February the children from Year 3 who hope to make their First Holy Communion in June made their commitment to go to Mass every weekend and to do their best to live like Jesus asks us.
These children will be prepared in school and be supported by their families to learn more about what it means to be called to receive Jesus in Holy Communion.
Snowy Days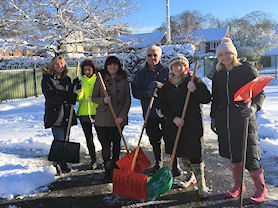 The snow clearing team.
11 December 2017
The heavy snow that fell over the weekend and again on Monday, meant that school had to be closed on Monday 11th and Tuesday 1th December as the site would have been too dangerous.
We are very grateful for the small, but dedicated team of staff cleared the site over the course of the two days, so that school could be opened on Wednesday
Parish Christmas Fayre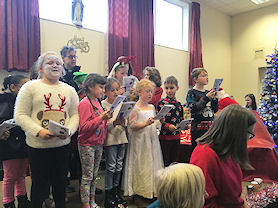 The children sang beautifully with Father Paul.
2 December 2017
On Saturday 2 December 2017 the parish held their Christmas Fayre in the Parish Hall.
The children from St. Chad's school had filled jars to make a Jar Tombola which the staff ran. The children sang Christmas Carols to entertain the people and were joined by Fr. Paul.
The event was very successful the school stall made £274.74 towards the amazing £2000 total.
New PE Equipment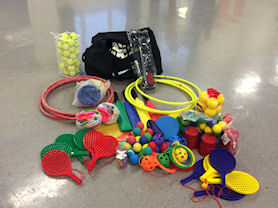 PE equipment obtained via the school vouchers.
1 December 2017
For several years now parents and carers have kindly collected Sainsbury's schools vouchers. These enable us to get free equipment for school.
This year we selected PE equipment for the children to use in their PE lessons.
Thank you to everyone who added to our vouchers.
Macmillan Coffee Morning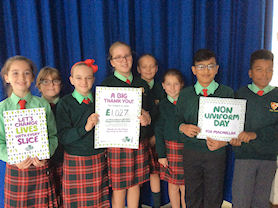 Raising money for Macmillan.
29 September 2017
Raising money for Macmillan is the first big fund raiser of our school year. So on Friday 29th September 2017 we held our usual coffee morning, cake sale and 'bring and buy.'
To raise even more money all the children paid a pound to wear their own clothes – green for MacMillan if they had them.
We are grateful for all the donations and support which enabled us to raise an amazing £1,027.
Saying Goodbye to Year 6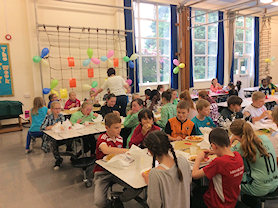 Year 6 enjoying their goodbye send off.
21 July 2017
On Friday 21 July 2017 we said goodbye to our current Year 6.
The dining hall and their tables were decorated with banners and balloons by Mrs Southall, in order to give them a good send off.
Most of the children have been together since joining St. Chad's at the start of Reception in 2010, so they have made very strong friendships. Twenty three of them will be heading for Bishop Milner in September, so they will only be saying 'au revoir' not goodbye!
All the staff send them good luck and all best wishes as they take the next step min their education.
Christmas Stamp Design Winner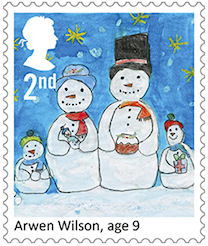 Arwen's winning design.
11 July 2017
The Royal Mail today revealed the winning entries in their 2017 Christmas Stamp Design Competition, which were chosen by HRH The Prince of Wales.
The design for the 2nd class stamp 'Snow Family' was designed by 9-year old Arwen, one of our pupils, and was chosen from more than 200,000 entries.
Arwen will also be presented with a framed set of her winning stamp designs later in the year by HRH The Prince of Wales.
Geoff Braden from Royal Mail, one of the West Midlands Regional judges said of Arwen's design: "I particularly like the Christmas pudding and the mischievous Snowman with the snowballs."
Royal Mail Chief Executive Officer, Moya Greene, said: "We received a phenomenal response to our Christmas Stamp Design Competition this year with 200,000 entries from children across the UK. HRH The Prince of Wales has selected the two overall winners, and we congratulate Ted and Arwen, whose designs will be featured on millions of stamps this Christmas."
The winners have both won £1000 in vouchers and £1000 for their respective schools.
Year 5's Maths Puzzle Day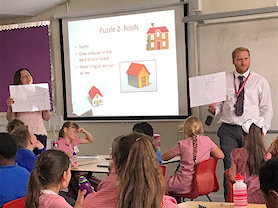 Year 5 doing some puzzling!
6 July 2017
On 6th July, Class 5 went to Bishop Milner Catholic College, along with some of Year 5 from St. Joseph's school to take part in a Maths Puzzle Day.
It involved problem solving and approaches to different areas of maths.
The children worked really well, learnt lots and had a fantastic day!
Walk to School Week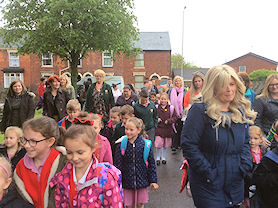 All walking to school together.
15 to 19 May 2017
During Walk to School Week families are encouraged to walk to school rather than use a car or public transport.
Some of our children made a real effort and walked to school most days. However as many of our families travel quite a distance, or parents drop them off on their way to work, not everyone is able to do this.
So on Friday we met at the bottom of the school drive and all walked the last part together.
A Day of Prayer for Vocations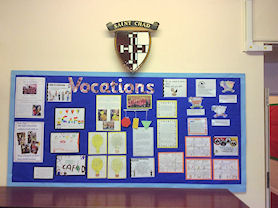 Our Vocations board.
3 May 2017
On 3rd May several visitors came into school to explain about vocations: Father Paul, Mel Dowling (School Health Advisor), representatives from Lovell builders, Cafod and The Good Shepherd Ministry.
The children now know a lot more about some of the vocations people have and how they use their vocations to help other people.
Gymnastics Competition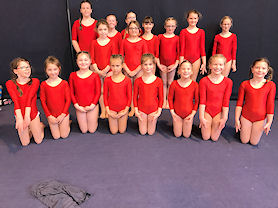 Our talented gymnasts.
29 March 2017
We are very proud of our two gymnastic teams who competed in the Dudley Schools' Gymnastic Competition on 29th March.
They performed really well, with the Year 5 and 6 team being placed in the top ten.
Lenten Assembly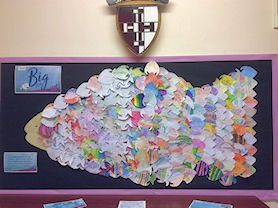 Our 'big fish' of Lenten promises.
1 March 2017
On Ash Wednesday we held a whole school assembly to mark the beginning of Lent.
We watched a film from Cafod that showed how a lady called Florence who lives in Zambia was helped by Cafod to become a fish farmer. We made a Lenten promise on a small fish.
Our promises are small, like the little fish, but when our promises are all put together they will make a big fish, and the little things we all do during Lent, come together to make a really big difference. All our promises have been put together to make one big fish for everyone to see and to help us remember how important our small efforts are.
Reception Baptise the Baby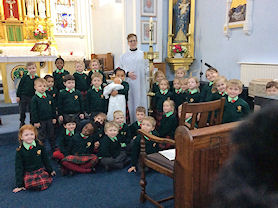 Reception act out a Baptism.
16 February 2017
Reception class enjoyed acting out a Baptism with Father Paul in church.
We had proud parents of the baby, plus dutiful Godparents as well as 'friends and family'.
Year 1 Candlemas Assembly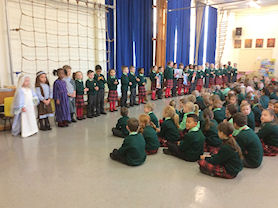 Year 1 present their Candlemas Assembly.
3 February 2017
On Friday 3rd February, Year 1 children led an assembly to celebrate the Feast of the Presentation – also known as Candlemas.
On this special feast day we remember when Mary and Joseph presented Jesus in the temple. This happened 40 days after his birth. In the temple they met Simeon and Anna who recognised Jesus as the Saviour of the World.
Year 1 acted out the story from the bible and held candles while they prayed to remind us that Jesus is the light of the world. They remembered such a lot of words for their assembly, which included hymns and prayers.
This Year's Sports Leaders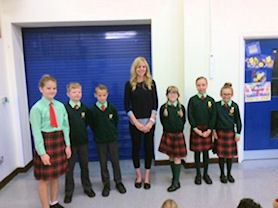 This year's Sports Leaders.
14 September 2016
Congratulations to this year's Sports Leaders.
These children have been selected as they have shown enthusiasm and dedication to a variety of sports as well as exemplary behaviour. Their job will be to assist with sports activities throughout the school and after school clubs.
The Sports Leaders were introduced to the whole school in the assembly on Friday 14th September. Well done!
Good Shepherd Mass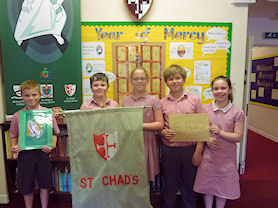 Some of the participants in the special Mass.
14 June 2016
Year 5 celebrated the work of the Father Hudson's charity by attending the Good Shepherd Mass at St. Michael's Catholic church, Penn. The chief concelebrant was Bishop McGough, who was joined by other local priests.
Two of our girls presented a cheque (the money we collected during Lent) and two other children proudly carried our school banner.
One of our boys chosen to read a bidding prayer and he read it beautifully.
It was a wonderful Mass and something we look forward to attending each year.
Year 6 Confirmation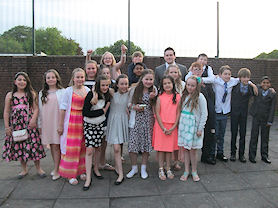 This year's Confirmandi.
27 May 2016
On Friday 27th May 2016 27 children from Year 6 and one teacher, Mr Lodge, received the Sacrament of Confirmation from Bishop David McGough.
The children had prepared for this day by learning about the Gifts and Fruits of the Holy Spirit.
They had all chosen a Confirmation name – the name of the special saint who they wanted to follow.
After the Confirmation Mass, the children enjoyed a celebration in the parish hall, with St. Chad's youth club kindly providing the refreshments.
Archery Tournament Winners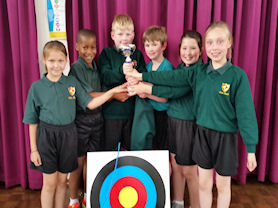 Our winning archers!
26 May 2016
Archery is a new sport to St. Chad's. Following the whole school archery taster day in April, some of the children from Years 3 and 4 continued learning archery. They made fantastic progress and so entered a competition against other Dudley skills – and they won!
So, huge congratulations to our successful Year 3/4 archery team seen here with their winner's trophy. We are very proud of them !
Year 6 Pilgrimage to St Chad's Cathedral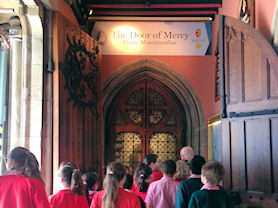 Passing through the Door of Mercy.
23 May 2016
The children from Year 6 made a pilgrimage to St Chad's Cathedral in Birmingham on 23rd May.
As this year is the Year of Mercy and a Jubilee Year, the children had the opportunity to pass through the Door of Mercy. This is a special door which is only open during jubilee years and symbolises leaving all are wrongs behind and making a new start on our faith journey.
The visit to St Chad's Cathedral is very important to the children of Year 6 as they prepare to receive the Sacrament of Confirmation, as this is the church of the Archbishop Bernard Longley.
The children got to see the archbishop's chair – the Cathedra, from which the church gets its name.
The Crowning of Our Lady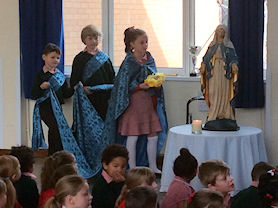 The children crowing Our Lady.
6 May 2016
May is Mary's special month and so at the beginning of this month we crown a statue of Our Lady with a crown made of flowers.
This is one of the traditions that we continue in St Chad's Catholic school, crowning the same statute that has been used since this school opened in 1957.
It is always one of the girls from Year 6 that crowns Our Lady. This year she was assisted by two of the boys from Year 3.
Football Match v Dawley Brook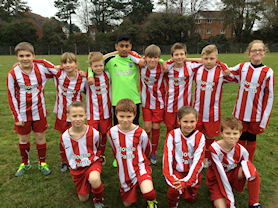 Our football squad.
23 March 2016
On 23rd March, St. Chad`s football team played its first match away to Dawley Brook.
Our goalie, was also captain, and he made some brilliant saves against a team who were mainly a year older than ours.
We began by scoring our first goal to be 1-0 up, but then despite our good play, the match ended in a 3-1 loss to us.
We have more to play and look forward to our next game in April.
Cross Country Winners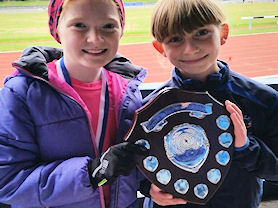 Our two super runners.
19 March 2016
Congratulations to two of our girls who qualified to take part in the Inter Schools Cross Country Championship representing Dudley at Aldersley stadium, in Wolverhampton.
They both finished in the top 25 and medals and certificates were awarded.
Dudley also won the trophy for the best overall score. We are very proud of them – well done girls!
Gymnastics Team Compete in Dudley Schools' Competition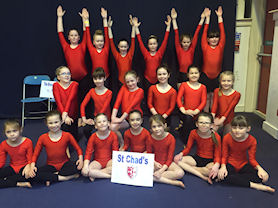 Our KS2 gymnasts.
9 March 2016
Well done to the girls from Years 3 to 6 who competed in the Dudley Schools' Gymnastics competition on 9th March.
They received many compliments on how smart they looked and their performances were fantastic.
Our best result was Year 5 and 6 'A Team' who came fifth out of 27, an improvement of three places from last year.
Goodbye to Mrs Jain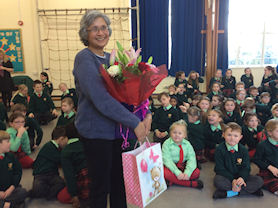 Saying goodbye to Mrs Jain.
15 January 2016
We said goodbye to Mrs Jain who has been teaching Year 1 since September, while Mrs Thomas was on maternity leave.
Mrs Jain is a great teacher and everyone is sad to see her go.
She was presented with flowers and presents, which we hope will help her remember us and we wish give her all our best wishes for the future.
Happy Birthday to Father Paul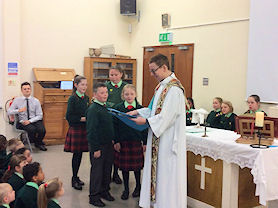 Father Paul with some of his birthday cards.
6 January 2016
Our parish priest, Father Paul, celebrated a 'very special' birthday on New Year's Day. As we were on holiday then we had to give him our cards and present when we returned to school.
So after Mass on Thursday 6th January we surprised Father Paul by not singing the last hymn, but singing 'Happy Birthday to You'!
Father was thrilled by all the cards made by the children and sends a huge 'thank you' to everyone.
Egyptian Mummies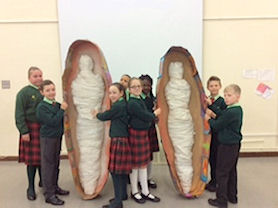 Scary mummies in school!
11 December 2015
To conclude their term's work on the Egyptians, the children from Years 5 and 6 undertook an art project with Ms Gartland, the art teacher from Bishop Milner Catholic College.
Ms Gartland, together with support from a small group year 10 students from Bishop Milner Catholic College, worked with our children to produce life-sized (and quite scary) mummies and sarcophagus.
Each class worked together to produce a sarcophagus which was covered with Egyptian symbols and a bandaged mummy.
Be Bright Be Seen!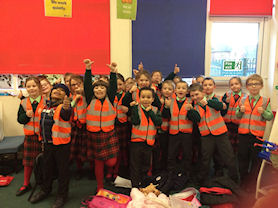 Year 2 were really excited at trying on the new high-viz jackets.
20 November 2015
Wearing something bright helps the children to be easily seen and therefore keeps them safe. So we are really grateful for the Friends of St. Chad's who have bought the school some high-viz jackets to wear when the children go out on school visits.
Year 2 tried on the new jackets, as they will be one of the first classes to wear them when they visit the Wyre Forest.
Samaritan's Purse Appeal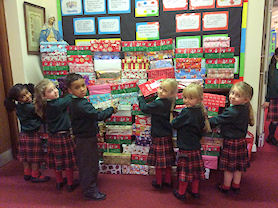 The boxes were piled so high the Reception class children couldn't reach the top!
19 November 2015
Every year Mrs Harris tells us about the children who have no presents at Christmas time and she asks us to fill a shoebox for one of them. We choose whether are shoebox is for a girl or a boy and fill it with small toys, hats and gloves, and other exciting things.
This year we have collected a record number for St. Chad's: 98 boxes! All these boxes will be sent by the charity to Macedonia.
Thank you to everyone; because for your generosity many needy children will have a better Christmas.
Welcome to Wendy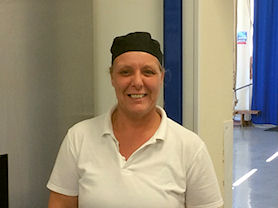 Wendy, our new catering manager.
21 September 2015
St. Chad's has a new catering manager called Mrs Wendy Fellows. Wendy started at St. Chad's on 21st September and has settled in very quickly.
She loves the kitchen which is only a few years old, but she says the best thing about St. Chad's is the children! She says she loves cooking healthy, tasty meals for the children and staff.
Parents will get to meet Wendy and sample her cooking at the forthcoming Parents' evenings.
Learning to Stay Safe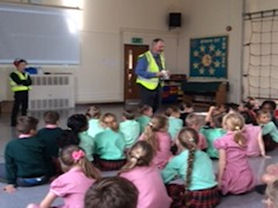 Learning how to stay safe around building sites.
15 September 2015
When there's building work going on in your local area it's really important to know how to stay safe.
Michael Pickston of United Living, who are working in the area, visited St. Chad's to explain how dangerous building sites are to children. He also showed the children the safety equipment that the builders have to wear to keep themselves safe.
It was very interesting and we are grateful to Michael for teaching everyone how to stay safe around building sites.
Saying Goodbye to Year 6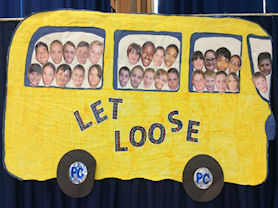 Year 6 chidlren.
17 July 2015
As we end the summer term we say a sad goodbye to our lovely Year 6 class. They have been a credit to the school; they have worked hard and supported us in everything we have done.
Last week they entertained us with 'Let Loose', a play about a rather unsuccessful residential visit to Slippery Slopes adventure centre! They sang, danced and performed their parts with great confidence. The performance was brilliant and they were amazing!
The staff, and the rest of the school, send all the children of Year 6 their very best wishes as they move on to their secondary schools. We hope they'll keep in touch, as it's lovely to hear how they're getting on.
Sylivia Hangs Up Her Apron!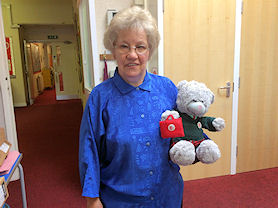 Sylvia, with her St. Chad's teddy bear.
17 July 2015
Sylvia Pearce who has worked as a cleaner at St. Chad's for almost twenty three years has retired.
Sylvia began working in St. Chad's in 1993 and has rarely had a day off! She has seen many children pass through St. Chad's, as well as a few staff! Throughout her time she has cleaned every one of the classrooms and also prided herself on keeping them 'spick and span'.
Sylvia, who 'didn't want a lot of fuss' was entertained by the children in a special assembly, before receiving flowers, cards and presents. As an avid teddy bear collector, her favourite gift was a special bear dressed in the St. Chad's uniform made for her by a member of staff.
Awards Ceremony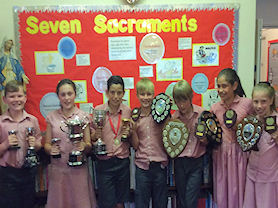 Our award winners.
16 July 2015
We ended this school year by celebrating the children's successes in the Awards Ceremony held on Thursday 16th July. About a hundred parents came to share in this celebration and to say a farewell to Year 6.
This year twenty two children had achieved 100% attendance through the year. They each received a special attendance medal.
Of the twenty children who had achieved a Gold Mathletics award, Natasha from Year 5 was the lucky winner of an iPod Shuffle. Effort shields were presented to Kyra in Reception, Olivia in Year 1, Mya in Year 2, Neve in Year 3, Shay in Year 4 and Natasha in Year 5 for all the effort they have put into their work throughout the school year.
The children from Year 6 each received a crucifix as a leavers' present and several of them were presented with special awards. Luca received The Papal Cup for Religious Education; Archie the Joan Walker Cup for reflecting the ethos of the school; Dominic received the Corser Shield for maths and Isabel the Jeannette Brown Cup for presentation and handwriting. Danny was presented with The Dudley Building Society Shield for all round academic achievement and Abbie Richards the Tony Bradley Shield for sports personality. Rebecca received The De Marco Shield for music and Stan, the Oakes Shield for ICT.
We are very proud of them all and wish them every success for their future.
Sainsbury's School Games Silver Mark
14 July 2015
St. Chad's are pleased to announce that we have successfully achieved the Sainsbury's School Games Silver Mark (formerly Kite mark). This is awarded for sustained commitment to PE and School Sport.
The Sainsbury's School Games Mark is a Government led awards scheme launched in 2012 to reward schools for their commitment to the development of competition across their school and into the community.
The Silver Award is recognition that:
all students have access to two hours of physical education and school sport per week (made up of curricular and extracurricular activity);
we engage at least 35% of students in extracurricular sporting activity every week;
there are opportunities for both boys and girls to take part in the appropriate level of competition;
the school has active links with at least three local sports clubs.
Saying Goodbye to Trudy and Maggie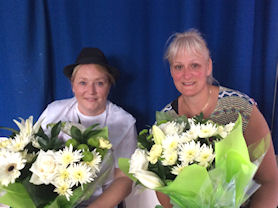 Saying goodbye.
10 July 2015
It's always sad to say 'goodbye' and today we had to say it to two of our staff.
Trudy Falato, Catering Manager, is moving to Bishop Milner Catholic College (part of the same Academy Company as St. Chad's) to manage their kitchen. Trudy has been cooking us all healthy, tasty meals for the last four and a half years, since we opened our new kitchen at St. Chad's.
Maggie Williams hasn't been Site Manager for very long, but she has kept the school in a fantastic state of repair and the Wildlife Area has never looking so beautiful.
We say thank you for all they have done for the staff and pupils of St. Chad's and we give both ladies all our best wishes for their future.
Netball Team Success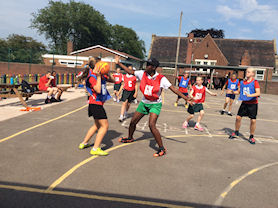 The netball team in action.
10 July 2015
St. Chad's netball team have had a successful year.
We took part in the Dudley schools High 5 tournament at Holly Hall School in May. We also won two out of our three league matches.
Our after school netball club, supported by Libra Lea netball club, will continue next year.
Well done to all the children who have taken part!
Reception Fundraising for the Children's Hospital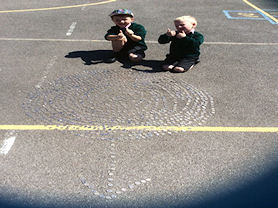 Reception's flower made up of 20p coins.
10 June 2015
On the 10th June 2015 Reception class asked everyone to bring 20p to make a flower. They did this to raise money for Ronald MacDonald House at Birmingham Children's Hospital.
This is where Jonah's family stayed when his sister was very poorly in the hospital.
In the afternoon ice-cream was sold to the whole school and altogether £435.40 was collected which will fund 17 nights in Ronald MacDonald House.
Thank you so much for your support.
Year 4 at the Islam Exhibition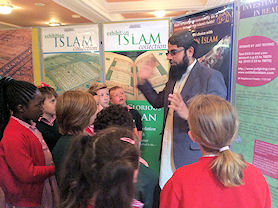 Year 4 at the exhibition.
5 June 2015
On 5th June, Year 4 visited the Islam exhibition at Dudley Town Hall to consolidate their work on Islam in school.
The children were a credit to St.Chad`s with their knowledge and enthusiasm and all - staff included - found it a very interesting morning.
We all agreed we had learnt a lot.
Tennis Tournament Success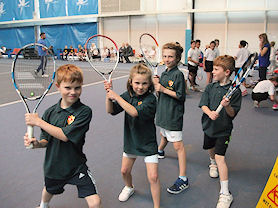 Wimbledon champions of the future!
29 April 2015
Four children from Year 4 took part in the school mini tennis tournament on 29th April 2015 at Tipton Sports Academy.
This is the first time that anyone from St. Chad's has entered a tennis tournament. The children played in several matches and scored more points than any other team!
Well done children we are very proud of you.
Year 5 visit Singers Hill Synagogue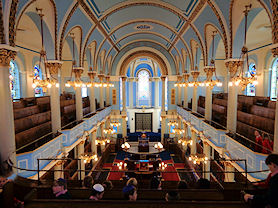 Inside the Synagogue.
28 April 2015
As part of our work on promoting British values and exploring other cultures, on the 28th April Class 5 visited Birmingham Hebrew Congregation Synagogue in Singers Hill, Birmingham. This is a place of worship for people who follow Judaism.
The class explored the interior of the building, identifying religious artefacts (such as the menorah and the bimah) and re-enacting some of the rituals the Jewish people uphold in their place of worship.
The children were also able to try on some of the Jewish items of clothing such as the tallit, teffilin and the kippah. They were even able to see the extremely sacred Torah scrolls, some of which were hundreds of years old!
The children thoroughly enjoyed their trip and were able to apply what they had learnt within their RE lessons.
School Council Visit the Council House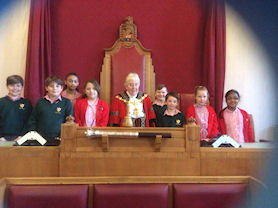 Year 5 and 6 Councillors meet the Mayor.
20 April 2015
On 20th April our Year 5 and 6 School Councillors had the honour of meeting the Mayor of Dudley, Councillor Aston, at the Council House.
It was an opportunity to gain an insight into how democracy works in Local Government.
Later, they enjoyed tea with the Mayor in her parlour.
Year 3 at the Sikh Gurdwara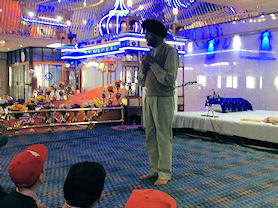 Mr Singh talks to Year 3.
15 April 2015
On Wednesday 15th April the children from Year 3 visited the Gurdwara on the Dudley Road in Wolverhampton. This is the place of worship for people who follow the Sikh religion.
They were met by Mr Singh who took them into the main area of the gurdwara and told them a lot of information about Sikhism, including the 5Ks. They were privileged to see the holy book, called the Guru Granth Sahib and learnt how this holy book is treated with so much respect that is 'put to bed' each night.
The children learned that the gurdwara has a kitchen, which only cooks vegetarian food, and which is open from very early in the morning to very late at night, in order for them to provide food for anyone who needs it.
The children were made most welcome and learnt a lot!
St. Patrick's Ceilidh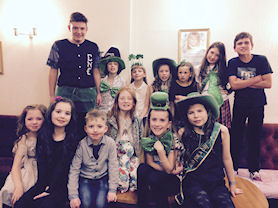 Some of the children who attended the ceilidh.
13 March 2015
We had a great time at the ceilidh to celebrate St. Patrick's Day.
The Friends of St. Chad's (like a PTA) organised the ceilidh, which was held in the parish hall so that there was room for everyone to dance. The live band and caller got everyone up and dancing.
A Visit from our Local MP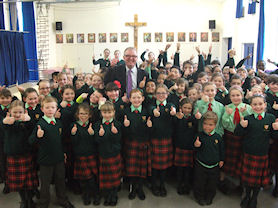 Mr Ian Austin, MP, with the children.
12 March 2015
On Thursday 12th March 2015 the children from Years 3, 4 and 5 had a very special visitor. Mr Ian Austin, who is the local MP, visited school tell the children about how he became an MP and what his job entails.
The children listened carefully and asked him some very challenging questions: What inspired him to be an MP? What aspect of being an MP is most interesting?
Lenten Assembly - A Chain of Love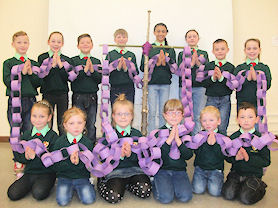 Our Chain of Love.
27 February 2015
Every child and adult (including the parents and grandparents who joined our assembly) made a Lenten Promise.
These were joined together to make a whole school Chain of Love. We will try not to break this chain by making wrong choices.
As part of raising money for charity during Lent, we all wore denim and made a donation towards supporting the education of a student living in Rwanda.
Year 5 Learn About Baptism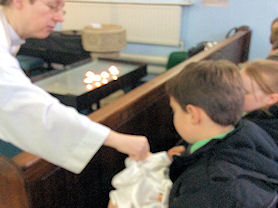 Re-enacting a Baptism.
6 February 2015
As part of their RE lessons, Year 5 went to church where Father Paul did a pretend baptism.
Two of our pupils were 'dad' and 'mum' - they presented their baby to Father Paul who showed them what happens when someone receives the sacrament of Baptism.
Everybody's Skipping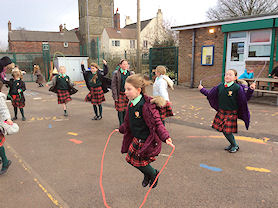 Enjoying skipping in the playground.
19 January 2015
Following the great success of the whole school skipping day on 19th January skipping has become really popular.
Children from all classes are enjoying skipping on their own, with a friend or in a large group with the long ropes.
It's not only keeping us fit, it's great fun too.
Operation Christmas Child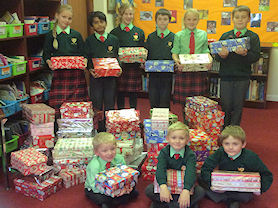 The children helped to count the boxes.
18 November 2014
This year's shoe box appeal was again a great success.
A huge thank you to all of you who sent in gifts. Many needy children will have a brighter Christmas through the thoughtfulness of our families.
You can follow where the appeal parcels are destined, by visiting the Samaritans Purse website at www.samaritans-purse.org.uk (external link).